Fostering inclusion and meaningful connections
The Intercultural Centre (IC) provides opportunities for all learners to take part in events, activities and workshops that foster respect, inclusion, creativity, teamwork and resilience, as part of Bow Valley College's "Open Doors – Open Minds" strategy.
Visit us in room N322 of North Campus, or reach out to us at intercultural@bowvalleycollege.ca.
Intercultural Competence
We offer programming to support you in developing introductory skills in intercultural competence. Our events, activities and workshops focus on building self-awareness, learning new perspectives, and engaging with diversity.
Engaged Citizenship
Get involved at your campus and in your community! Whether it's learning something new about your community through one of our presentations, or volunteering in the community, we provide opportunities for you to develop new skills, and have meaningful interactions.
Global Mindset
The Intercultural Centre's programming encourages the College community to see itself as part of an interconnected world. Through our events, activities and workshops, we strive to develop thinking that is truly global.

Join the ICan Crew
If you're looking for opportunities to volunteer, meet new people, learn new skills, and gain new perspectives, join the ICan Crew!
To get involved:
IC Events and Workshops
Board Game Drop-ins at the IC - October 20, November 17, December 8, 2022, 11:00 a.m. to 1:00 p.m.
If you have a break anytime between 11 am and 1 pm on one of the days listed above, why not drop by the Intercultural Centre (N322 North Campus) to play some games with your fellow students? Bring your own games (and friends!) or come by yourself, all BVC students are welcome -- no registration necessary!
Diversibility podcast
Join as the Sustainability Office and the Intercultural Centre mash up all new topics in sustainability and diversity! October 6, 20; November 3, 17; December 1 at 12:30 p.m. online in MS Teams. Click here for more information and to register!
IC Week 2022 - October 24 through 28, 2022 (various sessions)
Intercultural Week is back! This annual celebration and exploration of diversity is back. Here is a quick look at what's in-store:
October 24 through 28 -- Discovery Hub: Sustainability (a look at the UN Sustainable Development Goals through a lens of equity, diversity and inclusion)
October 26 -- Equity, Diversity and Inclusion workshop: Microaggressions
October 27 -- Film Screening: "19 Days" (for UN World Day for Audiovisual Heritage)
Click here for registration information.
IC Café (conversation cafes)
Join Looking for a place to have conversations with fellow students and make some connections? Drop by the Intercultural Centre and join us for an IC Café session, open to all Bow Valley College students. We provide the coffee! For more information, write to intercultural@bowvalleycollege.ca.
October 19, 12:30 p.m. -- Drop by for a casual chat
November 2, 12:30 p.m. -- Conversation topic: "Being new in your community"
November 9, 12:30 p.m. -- Drop by for a casual chat
November 16, 12:30 p.m. -- Conversation topic: "Tolerance" (UN International Day for Tolerance)
December 7, 12:30 p.m. -- Drop by for a casual chat
Intercultural Centre Events
Teach Your Talent: Learner led workshops
220
Workshops delivered at the Intercultural Centre
1350
ICan Crew learner volunteers
IC Learner Insights: Share ideas with your peers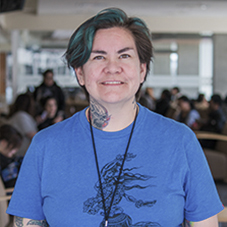 "I find that volunteering is important to help grow as a person. I started because I needed a change. It has helped me to step outside of my comfort zone."
Alexis Saulteaux
ICan Crew Volunteer, Aboriginal Upgrading Program