A campus hub for learner engagement
The Intercultural Centre (IC) invites learners to take part in events that promote diversity, develop leadership skills, and build community networks.
Visit us in North Campus (N322).
Community engagement
Here is your chance to be a part of the Intercultural Centre. Below are just some of the ways to get involved:
Teach your talent
Do you have a talent that you would like others to learn? Collaborate with an IC staff member to design and deliver your own workshop.
MC in the IC
Conquer your fear of public speaking! Volunteer to be a Master of Ceremonies (MC) at an IC workshop. We provide one-on-one coaching.
ICan Crew community volunteerism
Join the IC's ICan Crew to connect with other learners and volunteer on campus, and in the community. Recent volunteer events include Habitat for Humanity, Green Calgary, and the Calgary International Children's Festival.
Contact us to find out more.
Workshop Series
The IC offers a wide range of workshops aimed at engaging the campus community and exposing them to different cultural experiences. All workshops are open to staff, faculty, and learners.
Communal Table
These interactive sessions explore common cultural elements through a tactile experience. Past events include Capoeira, Arabic calligraphy, tea tasting, and tattooing.
Cultural Insights
This four-part workshop explores explores how culture and language impact learners' success in a Canadian post-secondary classroom. Open to internationally educated learners at Bow Valley College.
Levelling the Learning Field
This four-part workshop studies how culture and language affect internationally educated learners' success in a Canadian post-secondary schools. This workshop is open to internationally educated learners at Bow Valley College.
The Intercultural Centre's ICan Crew is a program for Bow Valley College learners to volunteer both on campus and in the Calgary community.
Teach Your Talent: Learner led workshops
166
Workshops delivered at the Intercultural Centre
752
ICan Crew learner volunteers
IC Voice: Share ideas with your peers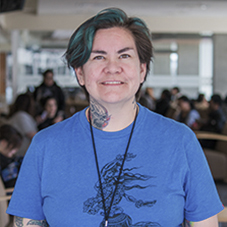 "I find that volunteering is important to help grow as a person. I started because I needed a change. It has helped me to step outside of my comfort zone."
Alexis Saulteaux
ICan Crew Volunteer, Aboriginal Upgrading Program
Intercultural Centre
Bow Valley College
North Campus, Room N322
345 - 6 Avenue SE
Calgary, Alberta, Canada
T2G 4V1
intercultural@bowvalleycollege.ca
Hours: 9:00 a.m. - 4:00 p.m.