Preparing for success
You can have a positive impact in your community while you build a rewarding career. Start with a certificate or diploma, or expand your current career options with a post-diploma certificate and continuing education courses.
Addiction Studies
Do you want to learn skills that focus on community and addiction? You can learn skills to identify and manage addiction in various populations, including Aboriginal communities.
Addiction Studies - Aboriginal Focus Diploma
Justice Studies
Do you want a career in justice? A Justice Studies diploma opens doors to many opportunities. The five specializations are:
Health and Human Services Management Post-Diploma Certificate
We were very excited to welcome our first graduating class from the HHSM program in June 2017! After the hard work and dedication of completing all 10 courses in the program, these learners are ready to enter the job market as leaders in the Health and Human Services sector.
Learn More
Disability Studies
Imagine a career where you make a difference every day by enhancing the quality of life of people with disabilities. You can work as an autism therapist, behavioural specialist, or a team leader in adult services.
Fetal Alcohol Spectrum Disorder Education Certificate
The online Fetal Alcohol Spectrum Disorder Education certificate prepares you to understand the unique challenges of FASD due to the variety of ways alcohol affects brain development. This certificate gives you the tools to provide quality care for individuals with FASD.
Learn More
Education Assistant
Would you like to work with teachers in an educational setting to support children with diverse learning needs and exceptionalities? This program gives you the skills necessary to work with children supporting their cognitive, psychological and social development.
Social Work
A career in social work can be exciting and rewarding. This 2-year accredited program focuses on multi-culturalism, helping you support a wide range of clients.
Child and Youth Care Diploma
Support the social and emotional wellbeing of young people, including Indigenous children and youth. Make a difference by training to work in familial, educational, community and organizational settings.
Learn More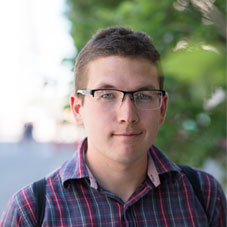 "I have gained significant professional and personal growth in this program! The passionate instructors share their experience, strength, and hope for a brighter future for people with disabilities and society as a whole."
Dan McDonald
Recipient of the Disability Studies Program Career Award and the Dean's Scholarship Award
A career with a positive difference
You can build a career that makes a positive difference in your community. You have the commitment, dedication, and vision. We're here to help you make those dreams a reality.
Dean, School of Community Studies
Dr. Cherylyn Cameron
Dr. Cherylyn Cameron is the dean of the School of Community Studies and the School of Creative Technologies.
View Bio
Meet Our Team
Cherylyn Cameron
Dean, School of Community Studies
Dr. Cherylyn Cameron
Dr. Cherylyn Cameron is the dean of the School of Community Studies and the School of Creative Technologies at Bow Valley College. After receiving her Bachelor of Science in Nursing from the University of Alberta and a Master of Arts in Education from Central Michigan University, Dr. Cameron attended Ontario Institute for Studies in Education/University of Toronto and completed a PhD in theory and policy studies. Her dissertation, "The Lived Experience of Transfer Students from a Baccalaureate Nursing Program," won the Best Dissertation Award from the Council of Study of Community Colleges in the United States. Dr. Cameron has taught and held several senior administrative positions in the post-secondary system for over 25 years. As the founding dean for the School of Creative Technologies, she is committed to academic excellence balanced with learner-centred principles in teaching and learning to educate skilled and confident professionals in communication, information, and design technologies.
Meet Our Team
Student Support
Your success is our focus. Our support services will help you achieve your goals.
School of Community Studies
North Campus, Sixth Floor
345 - 6 Avenue SE
info@bowvalleycollege.ca
Are you ready?
Get started on a career path with unlimited potential in a field you love.