About the CIFP Case Challenge
Students in the Financial Services major are selected to represent Bow Valley College every year. During the challenge, teams develop a case analysis, recommendations, and an implementation plan before presenting their solution to a panel of financial planning professionals.This is a notable opportunity for our students to gain team building, time management, interpersonal, and presentation skills. As well, students have an opportunity to network with the sponsoring organizations.
---
March 10, 2018
On March 10th, Bow Valley College was honoured to host the Canadian Institute of Financial Planning (CIFP) Case Challenge, Western Regional. The competition brings together schools from the Western provinces to compete in formulating a financial plan in a short period of time.
This full-day event was followed up with a dinner and presentation of the winners. The real work began in the morning where teams had just two hours to analyze the case, develop a financial plan, and prepare a presentation. Teams later presented their plans to a panel of judges from the Financial Industry. This year's competition included teams from Bow Valley College (2 teams), SAIT (2 teams), NAIT, and Red River College.
The Chiu School of Business team, coached and mentored by Financial Services instructors Christy Hemmingway and Raj Brar, included: Anuj Patel, André Kimerling, Joseph Amaral, Deepankar Sharma, Gurleen Benipal, and Leticia Marques. "It is a high-pressure competition for the students involved," states Christy, "but provides students with an incredible opportunity for learning."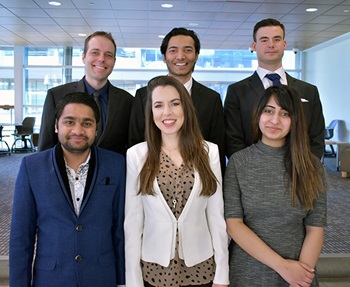 Having an opportunity that encompasses more than academics, these case challenges provide growth and refinement in intellectual and social skills. "You gain more knowledge in financial planning, you have an opportunity to network with potential employers, and you develop personal skills such as self-confidence," says Leticia. Working in a small team with tight timelines, students become aware of their skills and limitations. "I personally realize that we all brought different knowledge, skills sets, and innovation to the team. This helped us see the case from different perspectives and formulate solutions," says Anuj.
While the BVC teams did not place, they did an exceptional job in their financial plans and presentations to the industry judges. We are incredibly proud of their initiative, commitment, and accomplishments. This year's winners of the CIFP Case Challenge were: 1st place: Red River College, 2nd place: SAIT, 3rd place: SAIT.
---
March 11, 2017
The Chiu School of Business team, Aleksandra Iurkovets, Devang Purohit, and Raphael Maningo, described this event as a great learning opportunity in financial planning that helped them to further develop confidence in presentation skills and public speaking as well. The instructors worked directly with the case team for the past three months to ensure they were ready with the appropriate knowledge to feel confident in any financial planning situation with potential clients.
"I couldn't be more proud of our team this year as they represented not only themselves but Bow Valley College incredibly well," stated Christy Hemmingway, Lead Instructor.
---