Start Dates
---
September 06, 2022
January 10, 2023
Program Delivery
---
In Class
Real-time Online
Any-time Online
Tuition & Fees
---
Domestic: CAD $12,252
International: CAD $32,452
Estimated Book Costs: CAD $2,200
The maximum course load is 5 courses per term. Students can maintain full time status with at least three courses. Taking less than five courses per term will take longer to complete the program.
Program Description
Graduates will gain a fully integrated marketing and communications approach that effectively evaluates, plans, and implements an organization's promotional activities and business objectives. This major focuses on a digital and omnichannel world where shifting media consumption trends, global digital networks, and rapid growth of mobile communications has resulted in a need for marketing and communications professionals who can create cohesive and compelling brand messages that engage consumers while building brand equity.
To learn more about working in the integrated marketing communications field, Watch Video Here
Time commitment
This is a two-year (four term) diploma program. A standard course load is five courses per term. Students can maintain full time status with at least three courses. Taking less than five courses per term will take longer to complete the program.
Learning Options
The Business Administration diploma program consists of core business courses and major specific courses to develop industry specific skills. Core courses are available both in class and online. All major courses are available in class with only some courses available online.
Co-operative Education Program (Optional)
Bow Valley College will be suspending the Co-op portion of the Business Administration Program. This will be effective for students beginning their studies Fall 2021.
The program will provide other opportunities for students to apply their knowledge and develop skills that will benefit them in the workplace. Information about new opportunities will be shared after you begin your program.
---
Admission Requirements
Academic requirements
Credit in English Language Arts 30-1 or minimum 65% in English Language Arts 30-2 or equivalent
Credit in Math 30-1 or Math 30-2 or equivalent
Or
Successful completion of the General Educational Development (GED) test that consists of five tests with a minimum score in the following sections:
Interpreting Literature and Art: 520 minimum standard score
Writing Skills: 520 minimum standard score
Math Test: 520 minimum score
Or
Satisfactory results on the Bow Valley College Admissions Test
Or
Completion of 30 credits from a recognized business program (departmental approval required)
English language proficiency requirements
For applicants whose first language is not English, please review English language proficiency requirements.
---
Transferability
Transfer opportunities are available to a variety of institutions. Transfer credits are reviewed and accepted on an individual basis by the institution to which you apply. Here are the most current transfer agreements:
Athabasca University: Bachelor of Commerce
College of the Rockies: Bachelor of Business Administration
NAIT: Bachelor of Business Administration
Royal Roads University: Bachelor of Commerce in Entrepreneurial Management, Bachelor of Sustainability & International Business, Bachelor of Arts in International Hotel Management, and Bachelor of Arts in Global Tourism Management Degree
SAIT: Bachelor of Business Administration
Thompson Rivers University (Open Learning): Bachelor of Commerce
University of Lethbridge: Bachelor of Management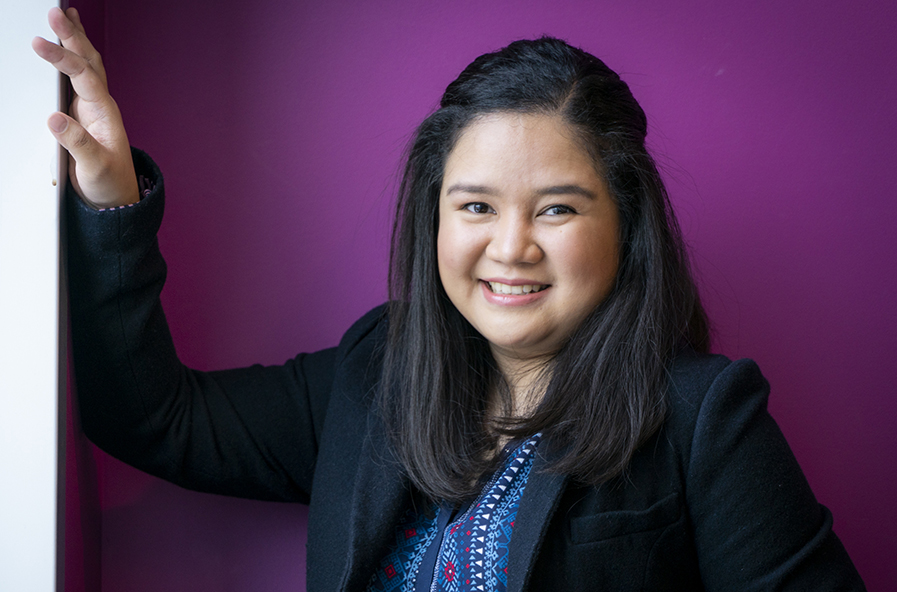 "The Chiu School of Business provides relevant business expertise in a supportive environment which effectively sets students up for success. By honing not just our knowledge and hard skills, but also our confidence, personality, and people skills, it encourages student excellence and personal growth."
Janelle Flores
Business Administration Diploma, Marketing Graduate 2018
Course Listing
---
Full course outlines are available here.

Curriculum subject to change.
Core Courses
Integrated Marketing Communications Major Courses
Integrated Marketing Elective Courses
Choose three (3) of the following courses
Required Course Elective
(It is highly recommended students take MGMT1302 Computer Applications)
Optional Courses
This course prepares learners for employment opportunities by developing marketing tools and skills for interviews.
Prerequisite: Completion of 15 program credits
Course Delivery
Any-time Online

A course delivery mode where learning activity takes place at times and locations of the learners own choosing through the use of online communications technologies. Learners are NOT required to participate in any scheduled learning activities, but scheduled exams may be required.
Learners who secure a Co-op position, will be enrolled in this four-month paid work-term course. The course provides an opportunity for hands-on practice in a variety of positions, depending on the qualifications of the learner and the Business Administration major. Learners, Hosts and career advisors maintain open communication throughout the work-term.
Course Delivery