Start Dates
---
September 01, 2020
January 07, 2021
September 01, 2021
Tuition & Fees
---
Domestic: CAD $11,308
International: CAD $31,812
A full course load is 5 courses per term. Students may elect to take fewer courses each term; however, it will take longer to complete the program.
Program Description
The focus of the Human Resource Major is on aligning the workforce with the strategic direction of the organization. The program includes an introduction to the function of human resources, an in-depth learning on recruitment and selection, compensation and benefits, occupational health and safety, employment law, and labour relations.
Accredited by Chartered Professionals in Human Resources (CPHR) Alberta.
Graduates from this program are eligible to receive exemption for the National Knowledge Exam (NKE) as part of the process in receiving a Chartered Professional in Human Resources (CPHR) designation. Graduates, who achieve an overall cumulative GPA of 2.7 or higher, proceed directly to building the required work experience requirements before receiving their designation. The CPHR designation is highly regarded and provides you with a strong competitive advantage.
Time commitment
This is a two-year (four term) diploma program. A full course load is five courses per term. Students may elect to take fewer courses each term; however, it will take longer to complete the program.
Learning options
The Business Administration diploma program consists of core business courses and major specific courses. Core courses and major courses are available both in class and online.
Course Schedule
Plan the sequence of your courses! These course planners are for prospective students only. If you are a current student, please refer to your D2L program page from program planners.
Co-operative Education Program (Optional)
Co-op provides eligible Business Administration Diploma students with an opportunity to gain work-related experience for one term through an assisted job search. Co-op offers students relevant experience to boost employment opportunities, develop professional skills and experience, network with employers, and earn money.
The Co-op Work Term process aligns with the competitive nature of job search. To be accepted into the Co-op Program, applicants must meet all eligibility criteria and follow the application process. Candidates are responsible for demonstrating a high level of professional and program expectations. Not all students accepted into the Co-op Program are guaranteed a Co-op Work Term position.
Find out more! Co-op Program
---
Admission Requirements
Academic requirements
Credit in English Language Arts 30-1 or minimum 65% in English Language Arts 30-2 or equivalent
Credit in Math 30-1 or Math 30-2 or equivalent
Or
Successful completion of the General Educational Development (GED) test that consists of five tests with a minimum score in the following sections:
Interpreting Literature and Art: 520 minimum standard score
Writing Skills: 520 minimum standard score
Math Test: 520 minimum score
Or
Satisfactory results on the Bow Valley College Admissions Test
Or
Completion of 30 credits from a recognized business program (departmental approval required)
English language proficiency requirements
For applicants whose first language is not English, please review English language proficiency requirements.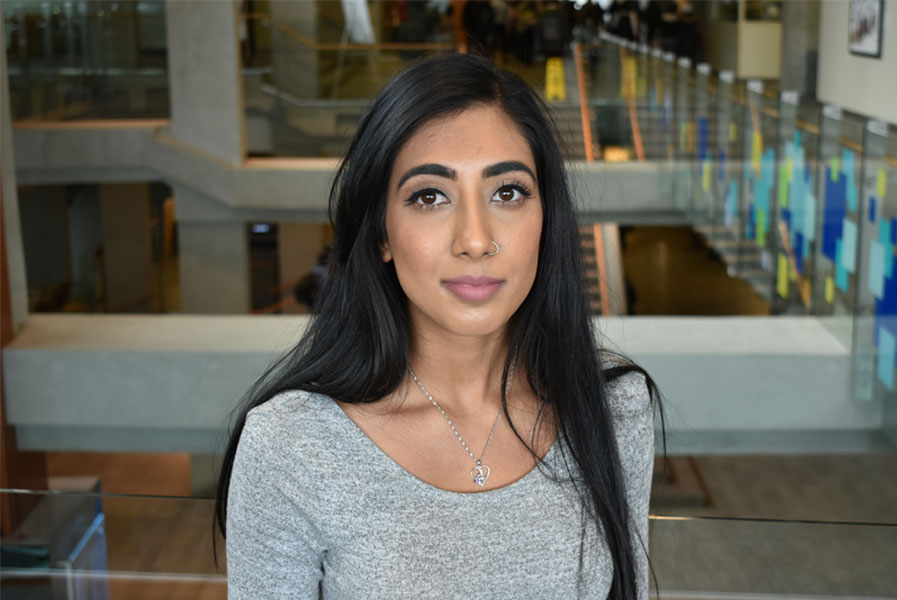 "The Chiu School of Business offers endless opportunities, such as building leadership skills and participating in an international exchange. Because of the small classroom size, you get an opportunity to stand out and be recognized by local organizations."
Pavan Sangha
Business Administration Diploma, Human Resources Graduate 2017
Course Listing
---
Curriculum subject to change.
Core Courses
Human Resources Major Courses
Optional Courses
This course prepares learners for employment opportunities by developing marketing tools and skills for interviews.
Prerequisite: Completion of 15 program credits
Course Delivery
Any-time Online

A course delivery mode where learning activity takes place at times and locations of the learners own choosing through the use of online communications technologies. Learners are NOT required to participate in any scheduled learning activities, but scheduled exams may be required.
Learners who secure a Co-op position, will be enrolled in this four-month paid work-term course. The course provides an opportunity for hands-on practice in a variety of positions, depending on the qualifications of the learner and the Business Administration major. Learners, Hosts and Student Engagement Officers maintain open communication throughout the work-term.
Prerequisites:
- Completed TOWES
- Minimum B in Business Communications
- Minimum B in Computer Applications
- Minimum program GPA of 3.00
- Commitment (attendance, punctuality, professionalism), as determined jointly by Program Coordinator, Instructors and Student Engagement Officer
- Formal acceptance into Co-op program
- Passed COOP 9997 Co-op Employment Preparation (non-credit)
- Learner has successfully secured paid Co-op Work Term with an approved employer
Course Delivery