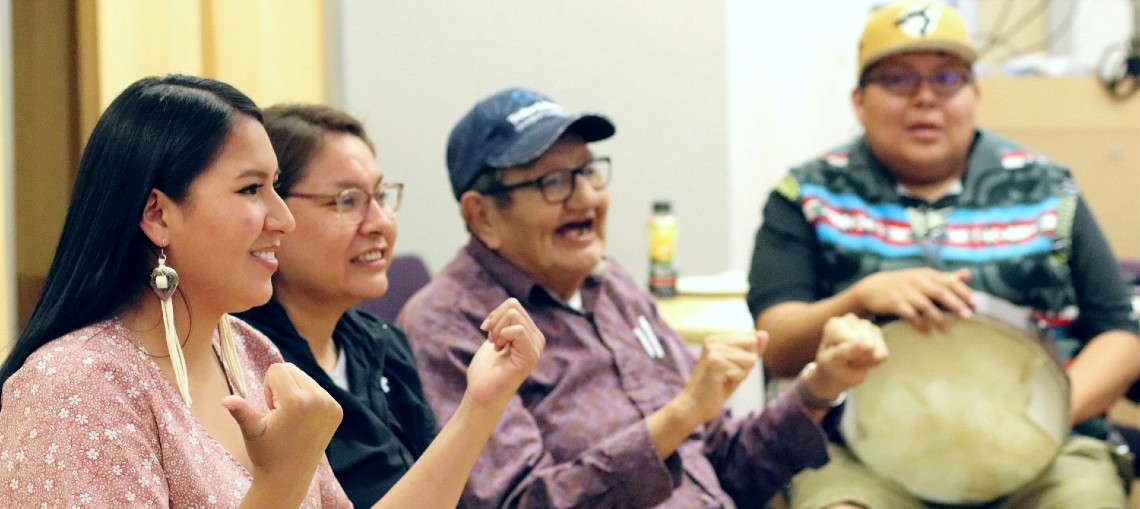 Student hand games team prepares to represent Bow Valley College in tournament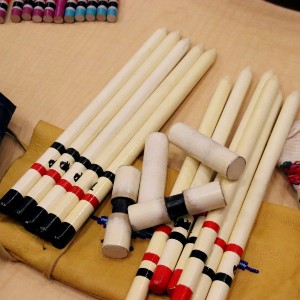 A student team supported by the Iniikokaan Centre will represent Bow Valley College in an Indigenous hand games tournament in Calgary this Saturday, June 25.
The inaugural tournament is part of Aboriginal Awareness Week Calgary — an annual event focused on raising awareness and celebrating the cultural diversity of Indigenous Peoples in Canada.
Ten students will walk in the Family Day Pow Wow's Grand Entry and compete in the tournament, which includes community teams, like the Iniikokaan Centre group, and corporate teams. Some of those students had a chance to learn about hand games and practise their skills at the Iniikokaan Centre last week.
Sheldon First Rider from the Kainai Nation, a valued member of the College's Knowledge Keepers Network, started playing hand games when he was four or five. He says Indigenous communities across North America play the games, in different styles and accompanied by different songs and drumbeats.
"Now you have people making the songs, and they're beautiful songs," he says.
He invited a family with knowledge and experience in hand games to share their expertise and songs with the student team last Friday, June 17. Mike Chief Body from the Kainai Nation and his son-in-law Leland English from the Piikani Nation explained the rules and objectives and showed students some of the unique stick sets their family uses in hand games tournaments.
Hand games involve two teams of five players who sit across from each other in a line. Accompanied by singing and drumming, hiders on one team conceal "bones" in their hands, while pointers on the other team use specific hand signals to guess where the plain (not striped) bone is hidden. Sticks are placed on the ground and used to keep score. The objective of the game is to get all the sticks.
Iniikokaan Centre Manager Michelle Fournie says learning about hand games and competing in the just-for-fun community event is an excellent example of how the Centre creates opportunities for all students to learn directly from Knowledge Keepers, Elders, and community members.
"We know that laughter is medicine and communities have been through a lot these past years," she says. "Meaningful engagement throughout the summer season is also part of Indigenous student retention efforts and addresses mental health risk factors in a culturally appropriate way."
Fournie is inviting anyone from the College community who would like to cheer on the team to come out on Saturday and watch.
The tournament will take place on Saturday, June 25, at Stampede Park, in the South Park area, between 10 a.m. and 4:30 p.m. The Grand Entry will take place at noon.
---