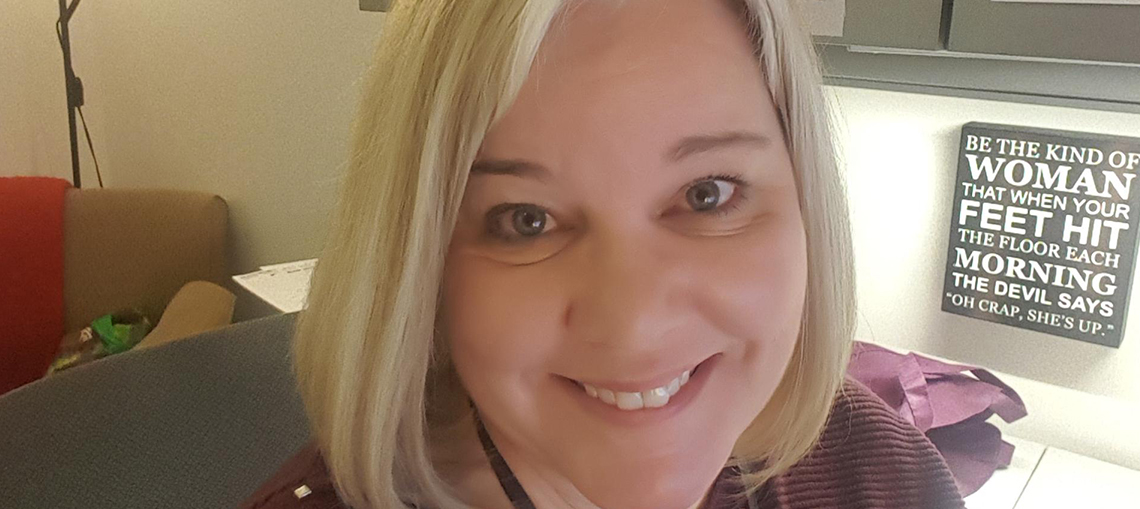 Bow Valley College employees see the impact first hand
Bow Valley College staff see first-hand how hard-working, resilient and determined our students are. They also see a need – for many students, access to education is an expensive proposition. Stacie Baker, Manager of Learner Financial Empowerment, sees this need every day in her role in Learner Success Services where students come to seek emergency financial support.

"I love the concept of financial empowerment," says Stacie. "My amazing team administers the awards and scholarships program, and I see first-hand how they help students get over the hump of a financial crisis. To see how grateful our students are, it makes such a difference."

Her interactions with our inspiring students inspired Stacie to give back and support the awards and bursaries program she and her team work on. "I've been with the college for 20 years, and I've given back for many of those years, and I'll continue to give back even after I leave," says Stacie. "Our students are working so hard and facing such unique barriers, but they have such resiliency."

Stacie is part of our generous community of donors who helped disburse more than $990,000 in student awards and bursaries to more than 650 students in 2019/20. These gifts made a real impact during a time of crisis for many of our students, who faced the uncertainty of the COVID-19 pandemic and a shift to a virtual education, all while continuing to excel in their studies. All of these awards, bursaries and scholarships are made possible by committed donors. They give to Bow Valley College to support our students and ensure they have access to the tools needed to graduate and make a difference in their communities.

Supporting our students was a no-brainer for Stacie, as she notes she has been blessed in her own life with an education, a stable job and good family support, so it made sense for her to give back to those who may not have been as fortunate as herself. "Our students are not only attending school, but they are often balancing so many other things along with their studies. I was always raised to help others – there's a cycle of giving, compassion, and empathy. And that's really important to me and why I give."

Bow Valley College employees are dedicated to student success and, like Stacie, many of them help inspire a brighter future for our students and our community by donating. In 2020/21, 110 Bow Valley College employees gave more than $58,000 to support student success. Our employees truly see the value of giving to students every day – interacting with them, supporting them, teaching them, and witnessing their resilience.

"You're investing in people, and you're really changing their lives," says Stacie. "Our students are worth every penny."

If you would like to become a donor like Stacie and help inspire a brighter future, please join the movement to help inspire student success and give to our first-ever Giving Day. Each gift up to $50 will be matched (up to $20,000), doubling your impact and allowing us to help more students reach their dreams and build a better community.
---