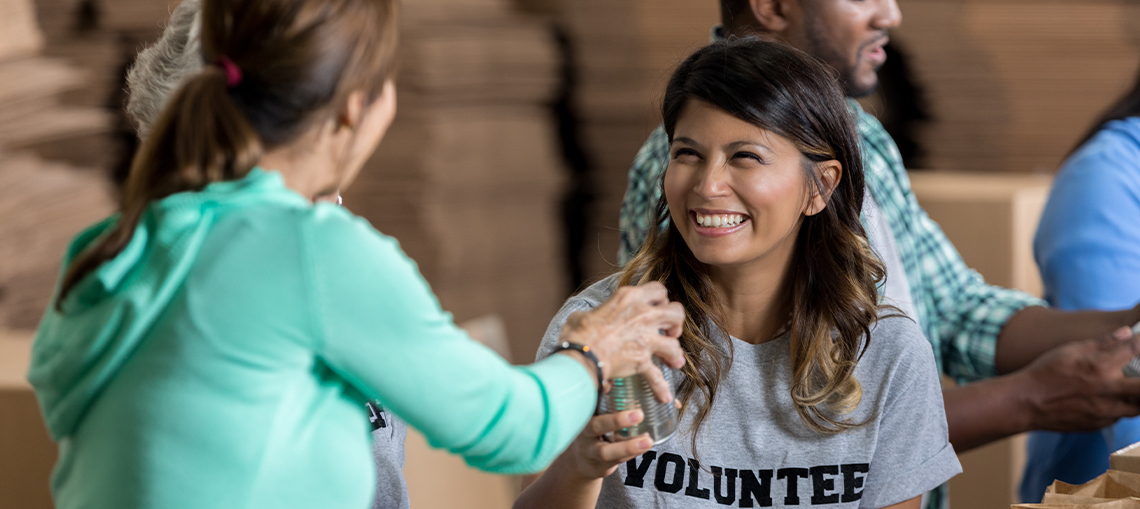 Bow Valley College-Nominated RBC Receives Generosity Of Spirit Award
Because of RBC and 150 Startups, Bow Valley College alum Joelle Mason's future says thanks. The human resources generalist at Iteration Insights says, "The process of 150 Startups and the connections made from them have been integral in my current role at my company as well as a great asset in helping this young organization with their startup initiatives. I am very grateful for the experience."
150 Startups is a community-based entrepreneurship program designed to increase the volume of first-time entrepreneurs from Alberta's post-secondary institutions. Not only did RBC provide the College with the opportunity to test the program in 2017 and 2018, but the company also committed a significant additional contribution so the College could continue working with all of Alberta's colleges and universities to develop the on-campus role models, resources, and mentors needed to create a self-sustaining student entrepreneurship engine that shifts the economic future of Alberta.
150 Startups is just one of the ways RBC has supported the College over the past 23 years with a commitment of over $1.15 million toward a wide range of initiatives that have removed barriers for students, especially more vulnerable ones, preparing them to be job-ready at graduation. RBC has also facilitated student support and programming related to diversity, inclusion, and health care and business programs. That's why the College was proud to nominate RBC for an Association of Fundraising Professionals Calgary and Area Chapter Generosity of Spirit Award in the category "Outstanding Corporate Philanthropist."
RBC's support of the 150 Startups program is part of its national and long-term commitment to help young Canadians prepare for the future of work. As students face reducing employment prospects due to the fallout from the pandemic, now more than ever, the power of this partnership and the reach of this program are extremely important.
Other transformational gifts RBC has supported include the RBC Business Accelerator Centre, Indigenous community programming, and the Corporate Readiness Training program, which allow the College to provide a work-integrated learning experience for our students that prepares them for their future careers and to reduce their financial burdens.
As a result of RBC's support, Bow Valley College has transformed the student learning experience to focus on valuable employment skill development for students to reach their educational and life goals, in many cases becoming more financially stable and resilient to crisis.
"At Bow Valley College, we open doors and open minds," says Dr. Misheck Mwaba, president and CEO of the College. "We set our students up for success in their careers — but also in their lives.None of it would be possible without the help of RBC, whose generous support ensures Bow Valley College can build upon its vision and mission to make all learning count."
As well as supporting the College, RBC gives to many worthy causes in our community, including RBC Race for the Kids, a family run that supports kids and youth around the world; Alberta Children's Hospital Foundation; the Resolve Campaign, which provides housing to vulnerable populations; and United Way of Calgary and Area. In 2019, RBC contributed $142.2 million globally through cash donations and community investments, including support to reduce the economic impact of the COVID-19 pandemic and tailored supports for the creative community.
In addition, RBC businesses have committed $11.5 million toward COVID-19 community response efforts, including food security, mental wellbeing, and strategic preparedness and response. RBC is supporting food banks locally and across the world to continue to help at-risk populations suffering during the pandemic.
"I have been humbled by seeing how charitable acts of kindness can truly make a meaningful difference in the lives of those who live in our communities and are in need of a hand up," says Jeff Boyd, regional president, Alberta & Territories, RBC. "It's a real honour for us to be able to support local causes through donations and volunteer efforts, and I'm proud of how our team has stepped up to give of themselves to help others. This is very much about living our purpose of helping clients thrive and communities prosper."
On behalf of Bow Valley College, congratulations to RBC on being honoured as the recipient of the Corporate Philanthropist award at this year's Association of Fundraising Professionals Generosity of Spirit awards.
---