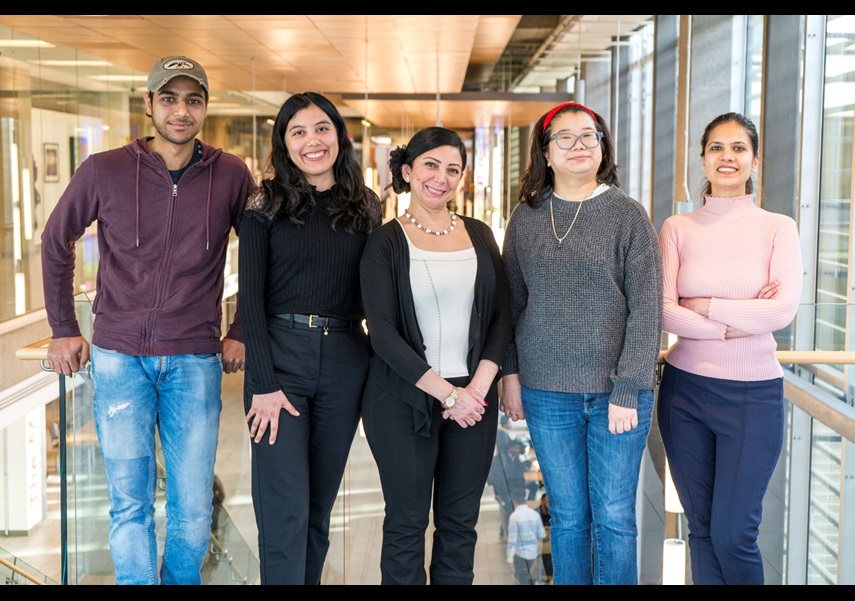 From left to right: Manan Kapoor, Lourdes Rodriguez, Moni Marouki, Mimi Tang, and Steffi Dhillon
During the COVID-19 pandemic, on-campus activities at Bow Valley College have been suspended. For this reason, the Student Sustainability Ambassadors program is paused. But, there are still many opportunities for Bow Valley College students and staff to learn about sustainability and take action in their own lives.
First, sign up for Sustainability 101, our free co-curricular sustainability course. Learn about many important topics, including the United Nations Sustainable Development Goals, climate action, energy and water conservation, green jobs, and recycling. All Bow Valley College learners and employees are welcome to join this self-paced course. Receive a certificate if you complete the whole course! Sign up by following these instructions.
Second, check out the Sustainability and Diversity webinar series being hosted by BVC Green and the Intercultural Centre. There are presentations about the ecological and cultural benefits of darkness (Jan 27), community science (March 30), and more! Learn more and sign up here.
Finally, read our 2020 Sustainability Report. Learn about our progress towards our goals and the ways that all areas of the College are contributing to a more sustainable future.
To learn about past projects of the Student Sustainability Ambassadors, check out the Winter 2020 cohort's posters below.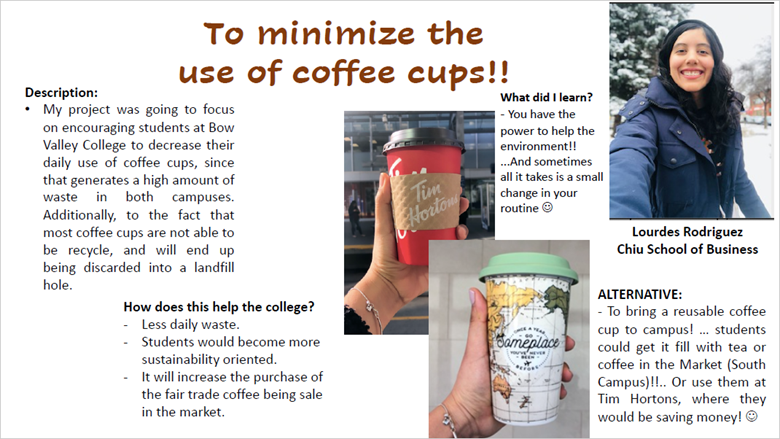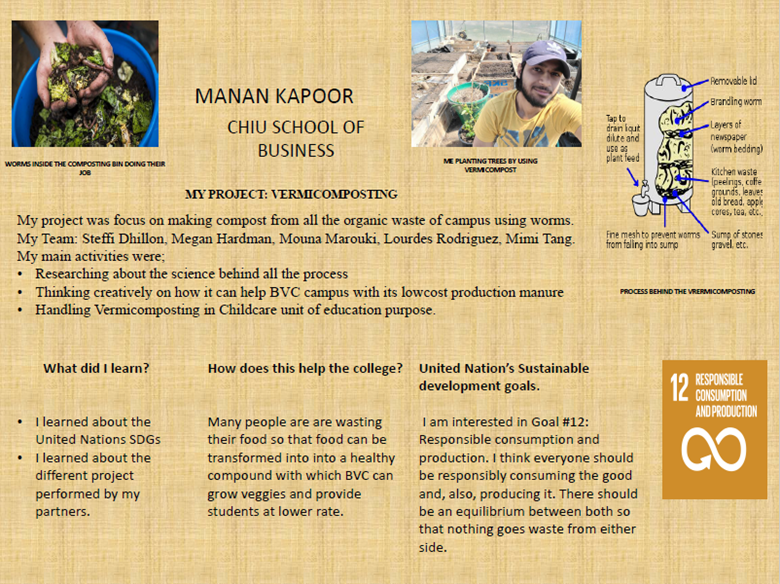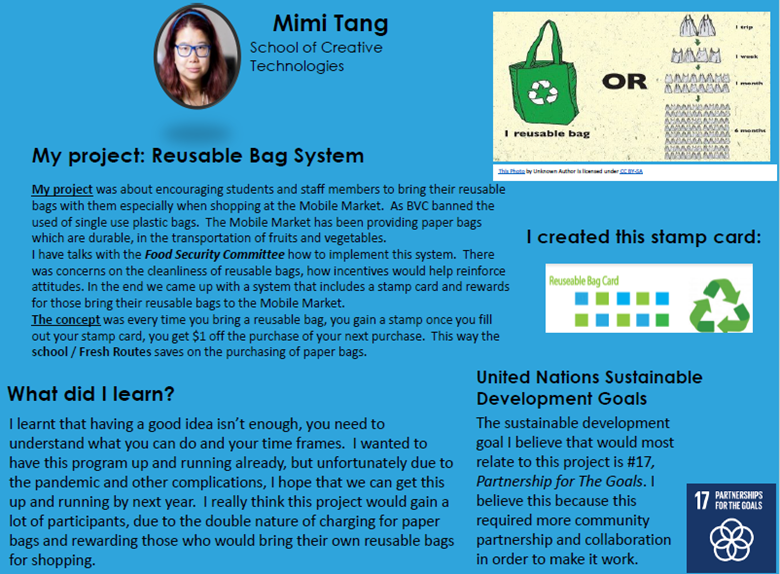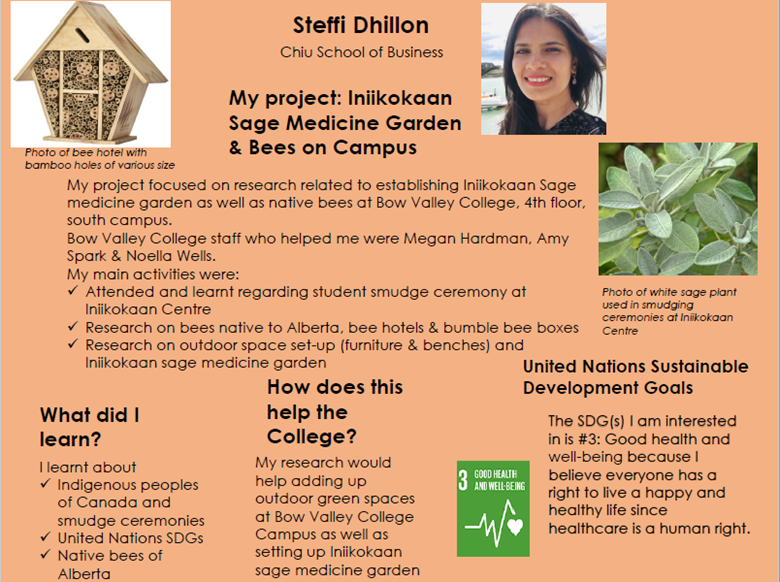 What is the Student Sustainability Ambassadors program?
This is a volunteer program where Bow Valley College students attend weekly meetings, help with waste & recycling education, work on a sustainability action project of their choosing, and receive a $250 stipend upon successful completion of the program. If you are passionate about a healthy environment and want to work collaboratively for creative solutions, this program is for you!
Recognition & benefits
$250 stipend

Recognized on co-curricular record

Listed on BVC Green website

Letter of reference (upon request)

Contribute to the sustainability portfolio at Bow Valley College

Build leadership skills, public speaking skills, and sustainability competencies
Eligibility & requirements
Length of position:

Jan – Apr 2020

Must be in second semester at BVC (or later)

Attend at least 7 meetings

Commit to 2 volunteer hours per week

Demonstrate a passion for sustainability

Demonstrate your learning at the end of the program
What have past Ambassadors worked on?
1. Researching possibilities for a community garden at Bow Valley College
Christine Abit (School of Health & Wellness) and Natasha Sergl (School of Creative Technologies) researched the benefits of community gardens and considered ways to start a garden at the College.
2. Researching women's education in Jordan
Luwam Mogos (School of Global Access) worked with faculty member Trevor McIvor (Research & Innovation) to come up with ways to better understand the barriers women in Jordan face when seeking an education so that they can overcome them.
3. Sustainability Bingo
Henry Chavez Turcios, Ramandeep Kaur, and Mimi Tang designed a Sustainability Bingo activity for students. Students answered questions such as "What is your carbon footprint?" and "How much water does the College use in a single day?" for a chance to win great prizes.